Laila's Wisdom by Rapsody,
on Jamla Records/Roc Nation, released on September 22, 2017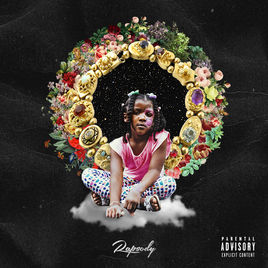 Female mc. Femcee. Lady Rappers. "Did someone write this for her."
There are a myriad of additional tags and terms that tell the old narrative of women who rap are registered into the game of hip-hop. It has been, for many years, a stain on their history and limits what can be taken seriously from theses rappers and may possible limit the output that is accepted from them by labels and producers who back their work.
In the case of Rapsody, the North Carolina born m.c. has paid her dues as a human being who rhyes and has been featured alongside some of the best human beings that rhyme, and is one of the latest signees of Roc Nation, a label started by Jay Z.
WHAT I EXPECTED:
Expert lyricism, some experimentation with subject matter, but I didn't believe that the limits would be stretched too far, just a relaxing vacation from typical concepts. I also was looking to a lot of 9th wonder production, but could not tag exactly where he would go, especially after his Kendrick works.
WHAT I HEARD:
Between the many collaborations with Talib and 9th, I only expected her to continue to improve as a beat rider and lyricist. I listened to her first full length album, , but failed to find songs that stuck. There was great serving lines and introspective thoughts that eased me towards drifting away, massaging my imagination, and nodding along. But I wasn't attached to the album.
This album, released September 30th, opens with the Nottz-produced title track. Here she is flipping a mix of deeper thoughts from freedom to debt to perceptions of blacks by others. She says,"They say we three-fifths human, the rest of me's an autobot", maneuvering efficiently and smoothly through her thought process. The same can be said about "Power', the 9th Wonder produced track that features a Jamaican-patios tinged verse from Kendrick Lamar. 9th comes through heavy on this album with the scoring or co-scoring of 9 of the 14 tracks. The marching procession of "Chrome(Ooh)" screams radio single without being gimmicky, even with the beat switch into a cruising groove for the last verse. the funky guitar sounds grace "Pay Up' a cool-moving track that may have you dancing as Rapsody warns of a lady scheming on an unsuspecting man's pockets.
By the time "Ridin" comes on, you are aware of two things: Rapsody is good at taking over a track and making it her own, and while she has been blessed with some great guest verses, she does not lose ownership. The Busta Rhymes advertised feature is a bit of a tease, as he doesn't appear in full verse or hook here, but does later. The vocal tone adjusting of "Sassy" and the beat riding just draws you into this track. She says on the hook, "If my sassiness upsets you, oh you mad that I survived." She is doing more than just surviving at this point of the album. A big statement that I wish more people would follow was uttered on "Nobody": "It's all hiphop, cant divide what aint different, Don't like all underground, don't hate all music that isn't, I was just making it clap to Waka Flocka last Christmas." The Black Thought track is strong as usual, bur that beat used for him sounded like a mis-matched jam session. At this point, you realize that this album is definitely filled with a good mix of cleverness and introspective journeys. "Black and Ugly" is a look-at-me-in –the-eye-if-you're-sure face-off that comes off well and confident, casting aside criticisms. "You Should Know" is another head-nodder that features what sounds like an adele sample, a cool "cell therapy" interpolation, and lines like "I'm a child of destiny, though fulfillment is up to me." After a beat swtich-up, Busta Rhymes delivers what seems to be a dedication of some sort. It was weird but cool.
The fade-off of the short but sweet "U Used to Love Me" is pretty sharp, almost as if Rapsody was literally walking out of the booth. Song is definitely too short. Knock on my Door" is a cool, female version of "how you doing, do you have some time for me", but inserts religion and nerves in a comfortable way. I like the ad libs used here. Definitely makes you feel it fit into Rapsody's personal approach of this album. Paak returns for a second song on "Ooo Wee", nice track that definitely is a strong upbeat selection that keeps the album moving. Album closes with "Jesus Coming", which has soft and easy accompaniment by the Amber Navarn. Rapsody raps to a vocal sample, which I am always a sucker for, but the vocal choice was a bit of an acquired taste when it came to pacing with the music.
CREATIVITY – 85%
PRODUCTION 90%
DECENT PERCENTAGE – 100%
OVERALL – 91%
SUMMARY:
I really enjoyed this album. I felt more connected to this than with her last full length effort. I definitely feel one with her thoughts during this ride, and noticed better song structuring and more fun with what she is doing. This definitely should be a contender for hip hop album of the year, as it brings strong thought process, music and separation together to make a great piece of work. Well done, Rapsody.